CHILDES Mandarin Li/Zhou PeerTalk Corpus



Linhui Li




Education




Shanghai Normal University




blue.blue.cat@163.com




Jing Zhou




Education




East China Normal University




jzhouc@gmail.com


website
---
Participants:
80
Type of Study:
naturalistic
Location:
China
Media type:
audio
DOI:
doi:10.21415/T5TQ2H
Citation information
Li L.H. & Zhou, J. (2008) Metacommunication Development of Children Aged from Three to Six during Their Collaborative Pretend Play (Master's Thesis, East China Normal University, Shanghai, China)

In accordance with TalkBank rules, any use of data from this corpus must be accompanied by at least one of the above references.
Project Description
The LiZhou PeerTalk corpus was collected from a kindergarten in Shanghai, China in 2007, including peer talk under the context of dramatic play. Twenty children aged 3, 4, 5, and 6 years old were selected respectively, half of whom were male and half female, and all children had normal language development without any auditory or verbal impairments and all their parents had college education background or above.
In order to compare children's language under peer interaction in different age groups, the two most common themes of "Doll Home" and "Doctor were preset after discussions with kindergarten teachers and corresponding toy materials were provided; And to elicit true peer interaction and language skills during the play, we selected one boy and one girl of the same age and from the same class to play and talk together. All the interaction procedures were videotaped.
The play was located in the corner of a kindergarten's activity room. Researchers brought children out of the class and come to the activity room while talking to them. When the researchers observed that children had erased their sense of strangeness to researchers, they told them to play with every provided toy at their fingertips and started videotaping immediately. In the process of children's play, the researcher replies to the child only when necessary and always does not intervene in the game in any other way.
Game material is as follows:
a set of doctor's toys, including a stethoscope, syringes, thermometers, medicine bottles, medical cards, Band-Aid;
a set of furniture toys including houses, dining tables, sofas and other furniture, trees
a set of dishes: bowls, plates, cups, spoons, forks
stationery: a number of colored paper, a box of watercolor pen, a folder
Others: a number of toy fruits and vegetables, a toy bus, two toy phones, a blanket, a doll, and a treasure chest
Play default scene as shown below: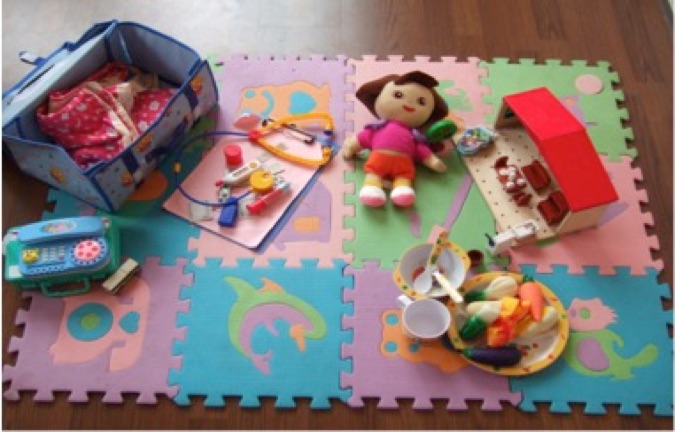 Acknowledgements
Yibin Zhang reformatted this corpus into accord with current (2020) versions of CHAT.
项目介绍
本语料于2007年在中国上海的一所一级幼儿园收集完成,语言情境为半结构化的合作装扮游戏中的同伴互动。在3、4、5、 6岁各年龄段分别选取了20名儿童,男女各半,经带班教师确认儿童均语言发展正常,没有任何听觉和言语障碍,且其父母学历均为大专以上。
为确保不同年龄组的儿童同伴互动语料具有可比性,在与幼儿园教师讨论后预设了"娃娃家"和"医生"两个在幼儿游戏中最常见的主题,并提供相应的玩具材料; 为使儿童在游戏过程中能够表现出真正的同伴互动及语言水平,选择同龄且来自同一班级的一位男孩和一位女孩共同游戏。采用摄像的方式记录儿童游戏的整个过程。
游戏地点在该幼儿园某活动室的一角。研究者从班级里将儿童带出,一边与儿童交谈一边来到活动室。当研究者观察到儿童对研究者消除了陌生感后即告诉儿童" 可以随便使用提供的玩具一起玩过家家",随即开始拍摄。在儿童游戏的过程中,研究者仅在必要时回答儿童提出的总是,不以任何其他方式介入游戏。
游戏玩具材料如下:
乐智小天地"小医生提包"组合玩具一套:听诊器,针筒,体温计,药瓶,就医卡,创可贴
家具场景玩具一套:房子,餐桌,沙发等家具,树
巧虎餐具一套:碗,盘子,水杯,勺子,叉子
文具:彩纸若干,水彩笔一盒,文件夹一个
其他:玩具水果和蔬菜若干,玩具公共汽车一辆,玩具电话两个,毯子一条,朵拉布娃娃一个,巧虎百宝箱一个
游戏预设场景 above.